Electric vehicles (EVs) are an important part of building a sustainable future, but growth in EV adoption depends on the availability of convenient charging infrastructure. Commercial property owners are uniquely positioned to help solve this issue. Installing EV charging stations provides an attractive amenity to tenants while enabling cleaner mobility.
As an eco-conscious business leader, you can drive positive change by embracing EV charging infrastructure. But where do you start, and how do you build a seamless, scalable charging network across your properties?
Get started with charging infrastructure for a cleaner environment
A lack of charging infrastructure can deter potential EV owners from switching from traditional vehicles. As a business owner or commercial property manager, you can enable and accelerate EV adoption by installing charging stations. Providing this amenity demonstrates your commitment to sustainability while future-proofing your buildings.
What is a charging infrastructure? 
EV charging infrastructure consists of the equipment and technologies that allow drivers to charge their vehicles. It includes charging stations or electric vehicle supply equipment (EVSE), connectivity and software, electrical capacity, and related services.
Charging stations come in different levels based on their supply voltage and amperage. Most public charging stations today are Level 2 AC, which use 208V power in commercial settings to provide 10-25 miles of range per hour of charging. DC fast charging stations operate at an even higher 480V to deliver 50-300 miles in 30 minutes.
What are the challenges?
While interest in EVs is increasing, barriers like range anxiety persist. According to a survey by AAA, 60% of Americans are hesitant to purchase an EV due to concerns over the availability of public charging. Installing charging stations at your commercial properties can help alleviate these concerns and encourage EV adoption in your community.
However, adding charging comes with challenges like upfront costs, lack of expertise, and utility constraints. Working with experienced vendors and utilities ensures that chargers are sited appropriately, and electrical systems can handle increased loads. Smart technologies like load balancing and energy storage can also help optimize infrastructure use.
Grid connection and planning for charging stations in commercial buildings
Connecting charging stations to the electric grid requires careful planning and coordination with your utility provider. A thorough assessment of your existing electrical system capacity is needed to determine if upgrades like new panels, transformers, or utility services are required. Charging stations can draw significant power, with some DC fast chargers using up to 350kW.
Utility companies can help assess your infrastructure needs and may provide rebates or programs to offset costs. On-site solar power or energy storage systems can further reduce strain on the grid.
Proper planning and grid coordination allow charging stations to be seamlessly incorporated into your buildings. This infrastructure powers your tenants' EVs today and flexes to meet growing demand tomorrow.
Eco-friendly investments: The role of EV charging in commercial spaces
Implement EV charging in commercial areas fills a few essential functions, including:
Meet tenant demands:

Access to workplace charging is a top perk for employees shopping for jobs. EV charging makes your space attractive to top talent.
Increase property value:

Easy access to charging allows you to charge higher rent and boost your asset value.
Improve sustainability:

Support climate goals and appeal to eco-conscious tenants by enabling emission-free transportation.
Access incentives:

Many federal, state, and utility incentives exist to offset charging station installation costs.
The EV market
The electric vehicle market has reached an inflection point. EV sales are projected to rise dramatically in the coming years, reaching 40% of all passenger vehicle sales in the United States by 2030.
Several factors drive this exponential growth, including improving battery range, lower operating costs, appealing new models, and government emission reduction targets. Major automakers like GM and Volvo have committed to electrifying their fleets. Meanwhile, new companies like Rivian and Lucid Motors are entering the space.
As the EV market grows, offering EV charging stations at your commercial buildings can improve their compliance with ESG green building standards. EV charging stations improve the environmental and social aspects of your compliance with ESG standards. Environmentally, charging stations help remove traditional polluting vehicles from the road. Socially, charging stations make electric cars more accessible to local residents.
Property owners and developers can influence the future
As a commercial property owner, you have a unique opportunity to cater to this rapidly growing but underserved market. Installing charging stations provides an attractive amenity that appeals to forward-thinking tenants and their employees. It signals that you are an eco-conscious business responsive to emerging trends.
While the upfront investment can be a barrier to entry, it is small compared to the marketing value and competitive edge you gain with EV charging. You also contribute meaningfully to a cleaner environment and sustainable future by enabling emission-free transportation.
Future-proof your buildings and attract high-potential customers
EV charging stations are becoming must-have amenities akin to WiFi and parking. Get ahead of the curve by offering this perk to retain and attract tenants in high-growth industries primed to adopt EVs, like technology, financial, and professional services.
Charging stations can also help put your city on the map by improving its smart city ranking in the US. These rankings incorporate EV charging stations as a ranking factor allowing property owners to support their city's growth and their own.
Investing in charging infrastructure future-proofs your assets so that you can accommodate and gain from surging EV demand. It's not just doing good – it's savvy business.
How to add charging stations to buildings and commercial space
Installing EV charging stations takes careful planning and execution. Here are the steps to successfully deploy charging stations at your commercial properties:
Assess electrical capacity:

Conduct a detailed evaluation of your existing electrical system, including service size, panel capacity, and transformer availability. Identify any upgrades needed to support charging loads.

Engage your utility:

  Work with your utility provider early in the process. They can help assess infrastructure needs and available incentives, rebates, or special rates.

Choose your charging equipment:

Select the appropriate charging station models based on speed, connectivity, durability, and accessibility—balance performance with cost.

Determine locations:

Identify optimal parking spots for EVSE deployment based on proximity to electrical service, convenience, and spacing considerations.

Install power supply:

Extend your dedicated power supply with sufficient capacity to serve the stations. This often requires new distribution infrastructure.

Mount and connect:

Install mounting hardware designed for the station models and properly connect EVSE to the power supply.

Enable networking:

Connect stations to back-end software platforms for access control, billing, and energy management.

Advertise and signage:

Designate EV parking spots and provide instructional signage on usage fees and terms of service.
Charging network fees and peak hour charging
Reputable charging providers allow you to set competitive pricing and access fee management tools to recover costs. Fees are generally structured as a one-time connection/activation fee, followed by monthly network access fees and fees based on usage (per session or kilowatt-hour).
Load management features can optimize charging speed and timing. For example, you can slow charging during peak facility energy use hours and accelerate charging during lower-use overnight windows. This helps reduce strain on your electrical infrastructure.
Building portfolio as a grid and energy source
Scaling EV charging across a property portfolio presents exciting opportunities. A portfolio-based approach allows you to shape charging behavior across buildings to add resiliency. For example, buildings with solar or battery storage systems can share clean energy across your mini-grid to fuel charging stations.
Smart EV chargers can also be configured to peddle surplus solar energy back to the grid. This provides revenue and grid-balancing benefits. With innovations like bidirectional charging, EVs can share stored energy with buildings.
Manage your buildings with ProptechOS
ProptechOS partners with a wide range of Proptech and building solution providers. It acts as the operating system for your buildings to enable automation, monitoring, and connectivity between your building systems. With its partners, you can use energy dashboard solutions that give real-time visibility into consumption by source, tariffs, and costs across buildings. You can try ProptechOS for free today to see how a building operating system can help you manage your facilities.
Optimize your efficiency and lower your energy costs
The platform also maintains partnerships with companies that produce IoT sensors to integrate current data into the platform enabling automation based on real-world conditions. This allows advanced functionality like predicting future electric consumption. As seen in this use case, predictive modeling supports capacity planning and demand forecasting to reduce costs further.
With transportation electrification accelerating, installing EV charging stations at your commercial properties provides benefits all around. You build goodwill and attract forward-thinking tenants while enabling wider adoption of eco-friendly EVs.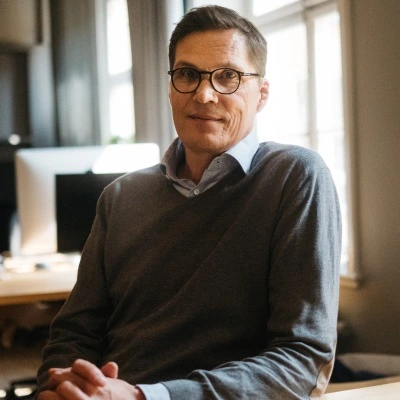 Chief Ecosystem Officer, and founder of ProptechOS and RealEstateCore is recognized as a leader in Building Operating Systems (BOS) and making the buildings of the world smarter. He holds an MSc and a Ph.D. in Media and Computer Science from KTH Royal Institute of Technology.
Read his full bio and information here.