ProptechOS enables connectivity to sthlmflex
Plug and play connectivity of all types of electrical equipment to power demand-response market

In late 2021, Vasakronan, Sweden's largest property owner, participated in the sthlmflex power market for the second year in a row. The achievement was accomplished by leveraging ProptechOS in three key areas:
For machine learning to predict future electricity consumption,
To predict the minimum possible reduction of electricity to keep mission critical equipment running during peak hours and
To calculate the possible savings of using the flex market.
Management and prediction of future energy consumption using machine learning module on ProptechOS.
Connectivity and scalability of any energy consuming device, regardless of energy type (electrical vehicles, heating, cooling etc.) to the sthlmflex power market.
No hardware investment needed to accomplish the project.
Large ESG-focused property owner
Vasakronan is Sweden's largest property owner, with a portfolio comprising 168 properties of a total area of 2.4 million square metres. They own, manage and develop centrally located office and retail properties mainly in Stockholm but also in Gothenburg, Malmö and Uppsala. Vasakronan has a goal of consuming 50% less energy in their portfolios than the industry average and aims to have a climate neutral supply chain by the end of 2030.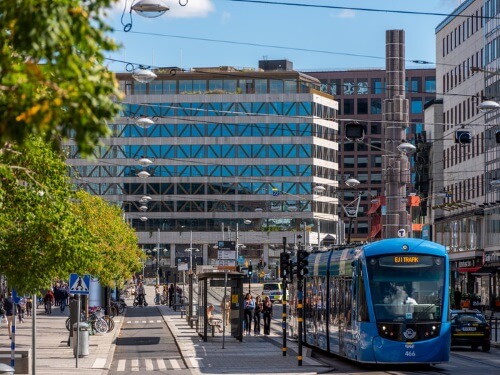 The project entailed connecting sixteen of Vasakronan's buildings to the sthlmflex energy demand response market through ProptechOS. Leveraging the ProptechOS application marketplace, Vasakronan could collaborate with Entelios (an energy broker) to aggregate their energy consumers and make them available on the sthlmflex market (a market that enables power grid companies to buy capacity from end-consumers).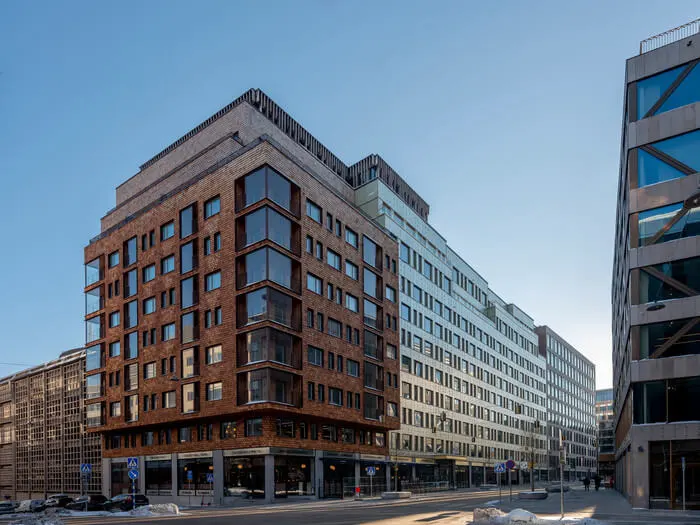 No hardware investments
ProptechOS provided connectivity of each electricity consuming equipment to the flex market while significantly reducing the number of integrations needed. ProptechOS also provided support for value-added services such as predictive modeling of future electricity consumption.
Based on stored historical data of electrical usage of charging stations and buildings in ProptechOS, a predictive model of future consumption was calculated for the Vasakronan portfolio. The model also predicted the minimum possible reduction of electricity to keep mission critical equipment running during peak demand and calculate the possible savings of using the flex market. Combined, the functionality supported Vasakronan's capacity planning and demand forecasting, further reducing costs.
The project unfolded by adopting ProptechOS as a coordinating platform which allowed Vasakronan to create digital twins of their energy consuming equipment such as heating pumps, ventilation, and electrical vehicle charging stations. The digital twins were then connected to Entelios and further to the sthlmflex market. ProptechOS interoperability ensured that integrations between the electrical vehicle chargers and other systems to Entelios would be in place for future expansion of the scope of devices to be connected, reducing the time and cost of implementation due to the significant reduction of needed integrations.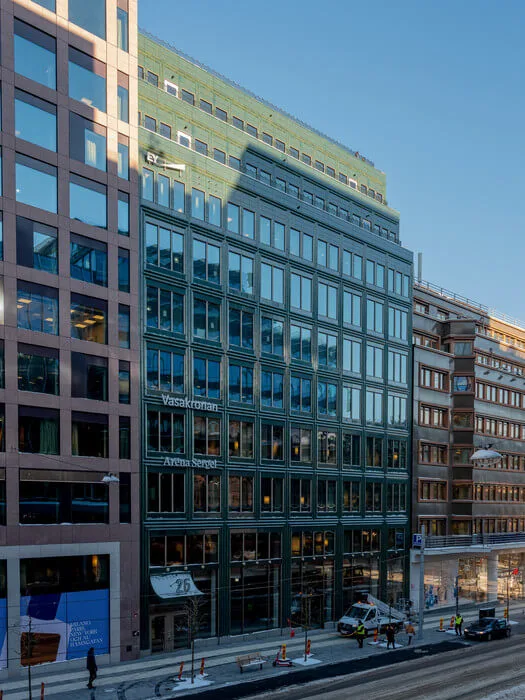 Result
For Vasakronan the project had a twofold impact – more efficient power consumption management, which could result in lower purchasing price of electricity and secondly, mitigating capacity shortage in Stockholm city by optimizing consumption.
Vasakronan's continuous focus on sustainability leveraging ProptechOS contributed to the Sergelhusen building in central Stockholm to achieve the world's third highest LEED sustainability score.
Emphasis for Vasakronan has been to assure that the solution is applicable and scalable to the rest of their portfolio by reusing integrations which minimizes time-to-market and costs to connect additional buildings and systems such as electrical vehicle chargers.
Product integrations in this project



"We have not needed to invest in a lot of new hardware, instead it has been about connecting different IT systems to the available trading system. In total we got 180 kW which we can sell on the flexibility market."


OUR CASES