Automated certification & compliance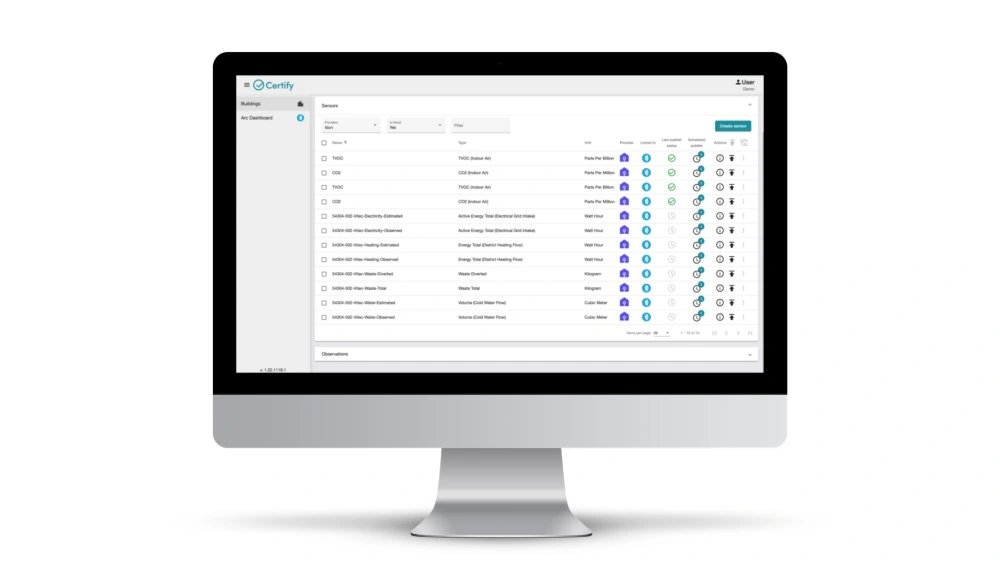 Manual data entry efforts become an automated data stream.  
Certify automates building certification by connecting digital twins of buildings, including sensors and devices, to the equivalent building, room or meter in certification or compliance systems. By eliminating manual data entry error rates, costs and certification lead times are reduced. By using meters and sensors in ProptechOS, data can be streamed continuously instead of compiled right before certification, so that the certification outcome can be known in advance and improvements can be made in time – if needed.
Sensor driven certification
By using sensors that are already in place or installing cost-efficient IoT sensors, certification does not rely on one-time manual measurements. The sensor telemetry gives a year round picture of the indoor air quality or utilization that is more reliable than single sample measurements. With a continuous data stream, the performance and improvement efforts can be managed over time.
Complementing the sensor array to support a certification use case gives an approximate 30% cost advantage compared to manual measurements. However, with typical re-certification cycles of 3-5 years, the same sensors can serve many subsequent cycles where a +85% cost advantage can be achieved. Moreover, the sensor telemetry can be used to power many other applications and use cases, making the ROI on sensor driven certification even better.
LEED by US Green Building Council
Certify is tightly integrated with US Green Building Council's Arc for LEED certification. ProptechOS buildings and sensors are linked to projects and meters in Arc. Consequently, consumption of all categories are continuously streamed into Arc. Performance statistics can be viewed and evaluated on an ongoing basis allowing building managers to see what score their buildings perform at, prior to certification or recertification. Managing LEED certifications of ProptechOS buildings can also be made by quickly and easily uploading historical data in bulk to Arc on demand.
Use cases supported by Certify
Automation
Automatic certification and re-certification of buildings for LEED, OVK (in Sweden) and other certification
Long-term sustainability profile
Long-term tracking and snapshots of sustainability metrics on building and portfolio level
Features of Certify
Connect digital twins of buildings and sensors to Certify, to stream live data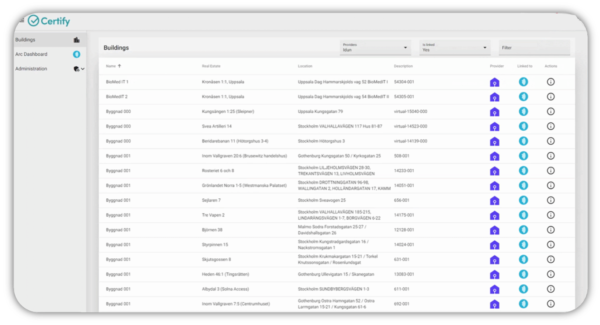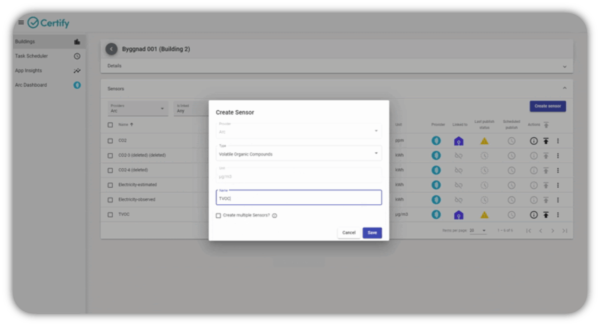 Manage sensors
Connect or disconnect sensors to Arc's certification platform, edit sensors and publish individual sensor data to Arc
View, filter and search buildings by building name, location, description and link status to the certification entity Arc and to ProptechOS. Manage buildings by grouping them and connecting to corresponding Real Estates. Further features include connecting and disconnecting buildings to Arc.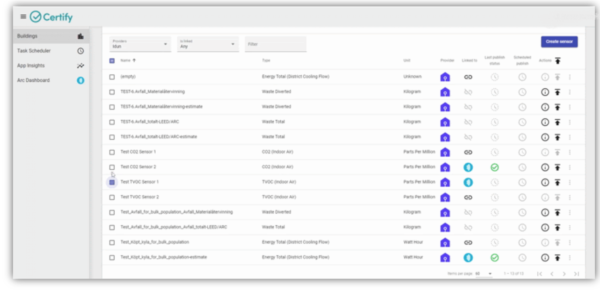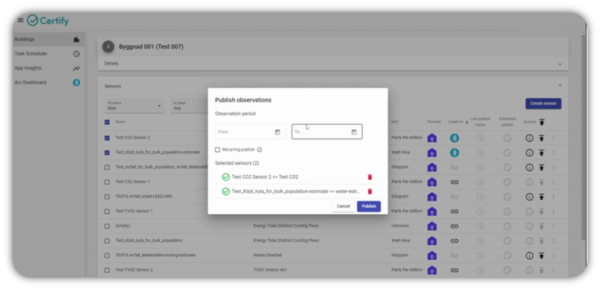 Publish single data points or publish in bulk. Optimize allows you to manage publishing of data to Arc using a cancellation and scheduling feature.