KLP prepares for increasing energy costs
Energy analysis of portfolio across multiple cities As the Nordic countries start to grapple with possible power shut-downs and power blackouts during the coming winter, many Nordic property owners also prepare for a more immediate issue of surging energy prices. KLP Eiendom manages rising energy costs in their property portfolio with ProptechOS Optimize application and ProptechOS Kiosk mode functionality.
Identification of malfunctioning equipment which caused spikes in energy consumption.
Single out the worst performing buildings in the portfolio.
Benchmark current energy usage to historical data to identify patterns in consumption.
One of the largest property owners in Scandinavia
KLP Eiendom is a Norwegian property owner with over 2,2 million m2 of property, with a value of 9 billion euros. KLP Eiendom develop and manage offices, retail, hotels, land and projects in several of Scandinavia's largest cities.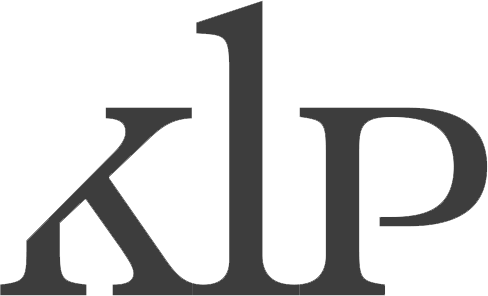 Goal
KLP aimed to digitalize their property portfolio by creating RealEstateCore digital twins of the buildings, which would enable further use cases within energy optimization, tenant experience, facility management, and artificial intelligence.
The KLP portfolio consists of a mix of new and old buildings with several different building automation systems, retrofits, IoT, different blueprint types, business systems, etc. that all are normalized using the RealEstateCore standard to create digital twins that continuously show an updated version of the blueprints, assets, and systems of the building.
RealEstateCore enables further use cases
The first step for KLP was to create digital twins for 22 buildings in the Oslo portfolio based on blueprints and data from sensors and systems in the buildings as well as other external systems such as Fortum Oslo district heating and cooling.
KLP started analyzing building performance within weeks of onboarding the first batch of buildings using ProptechOS Optimize. KLP were able to analyze the efficiency of district heating and cooling for the connected portfolios and prioritized the buildings by energy savings potential. When the Oslo portfolio was validated, the remaining portfolio of Trondheim was added.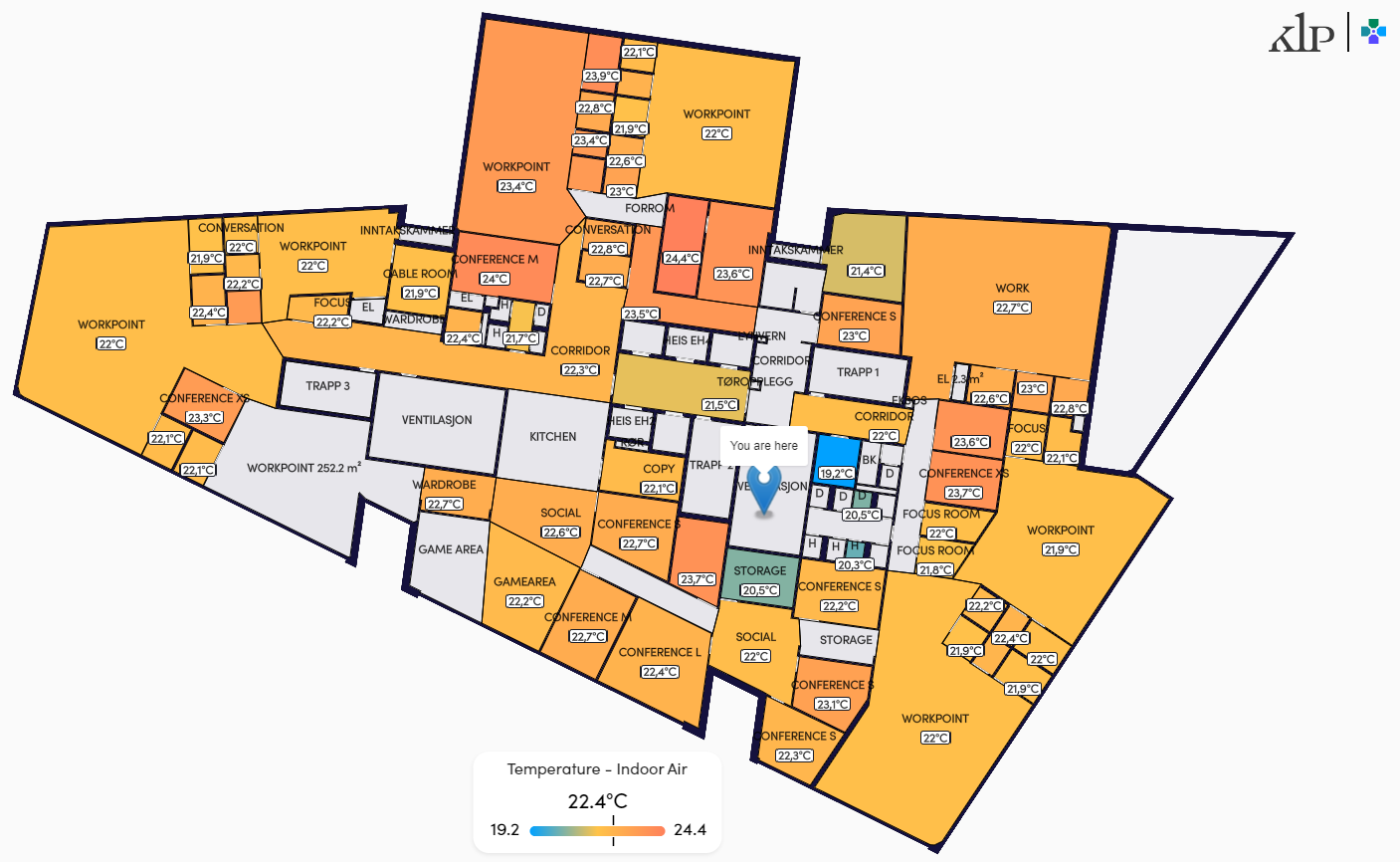 ProptechOS Kiosk mode for KLP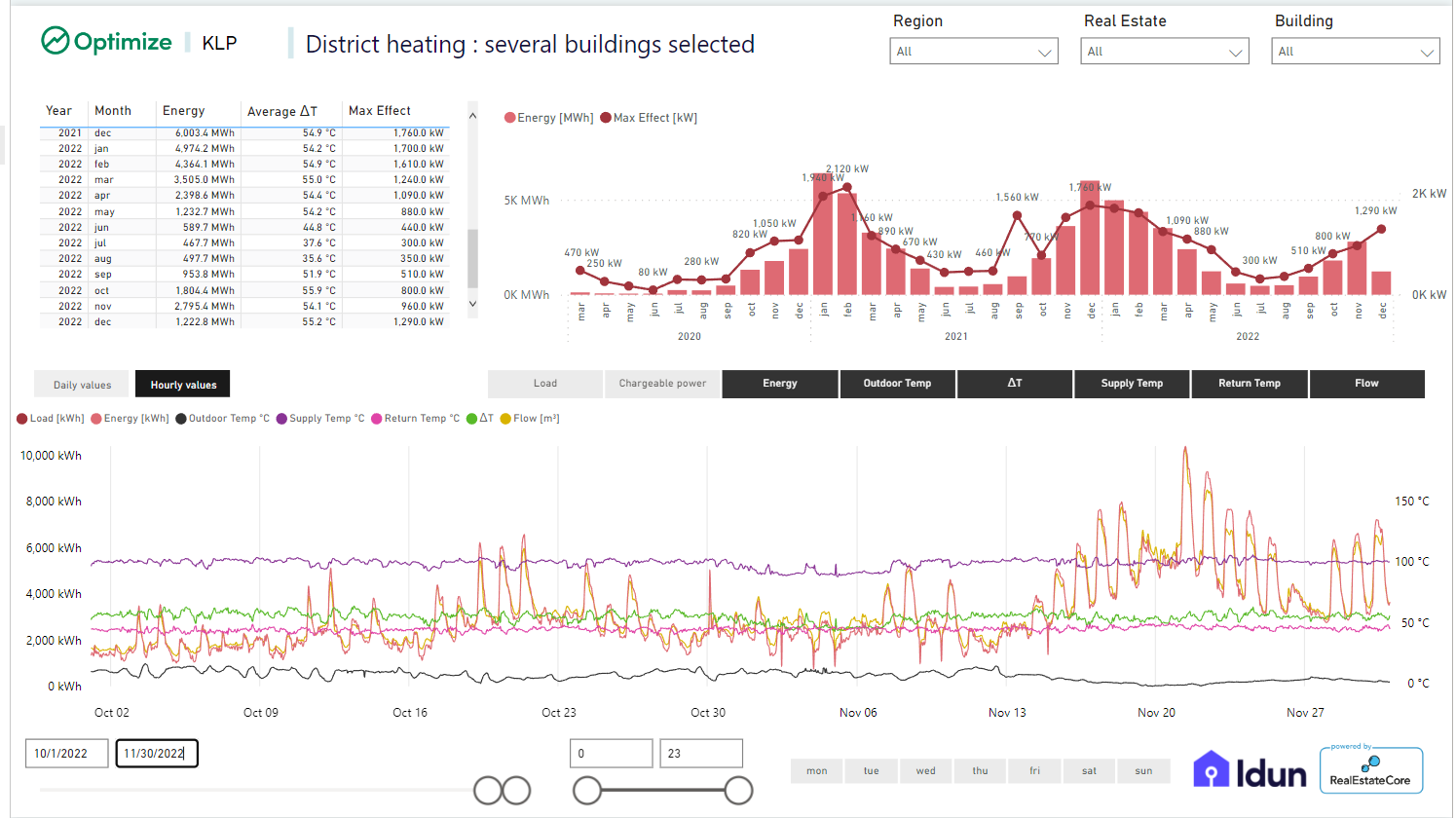 ProptechOS Optimize for KLP
The analysis of energy consumption in the Oslo and Trondheim portfolios identified several hundreds of MWh in potential savings yearly.
Using Optimize, KLP has the possibility to:
Identify malfunctioning equipment in the buildings such as faulty programming in building management systems, which caused spikes in energy consumption.
Single out the worst performing buildings in the portfolio, to create a priority list to work from.
Benchmark current energy usage to historical data to identify patterns in consumption and set strategies for optimization.
Leveraging the digital twins of the buildings, KLP can access a range of best-in-class applications for further use cases such as AI-based optimization and fault detection (FDD), metering, connectivity to the national grid, energy and ESG dashboards for tenants and staff etc.
Potential use cases which KLP can utilize using ProptechOS include
Connect buildings to the national power grid to off-load the grid at peaks. As a result, KLP could support businesses and other property owners who participate in the market with flexibility.
Nudging and empowering tenants to lower their energy consumption and get tenants to be a part of energy savings in their buildings by sharing temperature and utilization information with ProptechOS Kiosk mode.
Reroute energy to mission critical equipment during energy shortages using ProptechOS. This way, KLP is prepared for sudden energy deficits and is able to harness more of their energy by relocating it from systems of less need, even during times of satisfactory energy supply.
With the help of a variety of measures in ProptechOS and Optimize, KLP is better prepared for the coming winter season.
ProptechOS partners in this project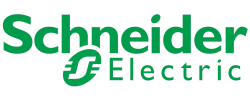 "Using a few central data sources to analyze our full portfolio for each region gave us fast results of several hundreds of MWh in potential savings yearly with minimal effort – we didn't have to start large scale integration projects for each building. Instead we took the data from the source, the same data that we are getting invoiced on."


OUR CASES