Facilities management is an integral component of businesses worldwide. It ensures the built environment's functionality, comfort, safety, and efficiency. But like any other industry, it is not immune to changes. The future of facilities management is brimming with advancements and trends, lighting the path towards a more efficient and sustainable industry.
What is the future of facilities management?
The transformation in facilities management is shaped by two primary factors: sustainability and technology. These elements underpin the future of this industry, fostering changes that will redefine how we manage our buildings and facilities.
Creating a sustainable workplace
Sustainability is no longer a buzzword but a necessity. The future of facilities management is leaning towards creating sustainable workplaces and ESG green buildings. This shift will involve adopting green practices, such as energy efficiency, waste reduction, and sustainable materials.
These initiatives align with ESG principles, promoting green, socially responsible, and well-governed practices. Facilities managers will be crucial in implementing these practices, ensuring their buildings contribute to a healthier environment.
Access to IoT and AI
Internet of Things (IoT) devices and Artificial Intelligence (AI) are seeping into facilities management.
IoT devices provide real-time data on various aspects of buildings, from energy use to occupancy. This data aids in predictive maintenance, energy management, and operational efficiency. The adoption of IoT continues to grow, with the IoT market for commercial real estate currently valued at over $50 billion.
Similarly, AI can help automate routine tasks, analyze large amounts of data, and even predict potential issues before they arise, making facilities management more efficient and proactive.
What are the new trends in facilities management?
The future of facilities management will rely on technology to enhance efficiency. This involves the digital transformation in facilities management to enable:
Proactive maintenance:

Modern facilities managers use predictive analytics to foresee potential issues and schedule maintenance before problems occur, reducing costly downtime and extending the lifespan of equipment.
Data-based decision-making:

By analyzing data on space usage, energy consumption, and maintenance needs, facilities managers can make informed decisions to improve efficiency and optimize resource use.
Automation and smart building systems:

To minimize energy waste, facilities managers can use automation and smart building systems to automatically adjust building systems based on real-time and historical occupancy and usage data.
The main challenges
While recent technological advancements can make facilities management more efficient, facility managers need to overcome a few critical challenges before implementing these technologies.
Resistance to change

can slow the integration of innovative technologies, necessitating robust change management strategies.

Data silos

pose a problem, too, hindering the effective use of information for decision-making and process optimization.

A

lack of technical expertise

can obstruct the successful implementation of complex systems like predictive analytics and automation.
Making use of the cloud
Cloud technology offers a viable solution to some challenges facing facilities management. For instance, the reluctance to adopt new technology can be mitigated by the cloud's user-friendly interfaces and intuitive design, simplifying the transition and reducing intimidation.
In terms of data fragmentation, cloud technology enables centralized data management. It allows for integrating data from various sources into a single platform, breaking down data silos and facilitating efficient access and analysis of information. This can streamline decision-making and optimize facilities management processes.
Finally, moving to the cloud can significantly reduce the technical expertise required to manage and maintain on-premises systems. Cloud providers handle the technical aspects of system maintenance and updates, allowing facilities managers to focus more on strategic tasks.
What are the advantages?
Adopting these new trends in facilities management comes with a host of advantages. They can lead to cost savings, improved efficiency, and better data management. Furthermore, they can enhance the sustainability of buildings, contributing to environmental protection and possibly even enhancing the company's reputation.
An integrated facilities management system impacting the NOI
Integrating facility management tools into a unified system enhances the capabilities of all facility management tools, increasing a facility's net operating income (NOI). It reduces labor costs by automating routine tasks and creating automated alerts, reducing the need for constant in-person inspections.
An integrated system can also assess all facilities management processes to find opportunities to optimize performance. This unity allows the system to see interactions between building systems for optimal performance. It can also predict maintenance needs before issues show themselves, allowing you to perform maintenance instead of repairs.
What difference does it make in commercial real estate?
Managing a diverse portfolio in commercial real estate can be complex. Every property has unique challenges and requirements, making it essential to have a unified view of all facilities management activities. This is where ProptechOS comes into play.
ProptechOS acts as a building operating system, unifying all Proptech solutions across an entire commercial real estate portfolio into a single ecosystem. This unified approach makes it easier to oversee, control, and optimize all aspects of facilities management, from energy usage and maintenance to space utilization and tenant experiences across your entire portfolio. Give ProptechOS a try today to see how integrating your Proptech solutions can enhance your operations.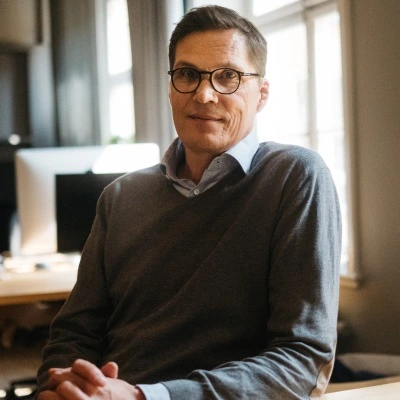 Chief Ecosystem Officer, and founder of ProptechOS and RealEstateCore is recognized as a leader in Building Operating Systems (BOS) and making the buildings of the world smarter. He holds an MSc and a Ph.D. in Media and Computer Science from KTH Royal Institute of Technology.
Read his full bio and information here.