The digitalization of Real Estate will have a significant impact on society. REDI is a think tank supporting the real estate industry in working with real estate standards and new technologies like Proptech. The organization is being launched in Sweden, and among foundation members, they have managed to gather several of the largest property owners in the country.

The digitalization of real estate has been taking quantum leaps during the last few years. New solutions are continuously developed and installed in buildings and properties. Several new PropTech companies are popping up, ranging from start-ups to established companies that develop solutions to essential problems in the Real Estate industry.
What makes this environment both exciting and challenging is that there is a wide range of technologies and areas in real estate that are being digitized. One factor that complicates the picture further is that the properties are often seen as stand-alone units.
REDI.city is an initiative that acts to make real estate ready for the connected society of the future and support the change process in the industry. The organization proposes to use open standards such as REC.
Typical challenges in the digitization in Real Estate industry
Systems are often built-in closed solutions that solve a subset of the challenges in the properties

It is common for systems to ignore data found in other systems in the properties

It often takes a lot of integrations to collect and quickly adapt data to central systems

It is demanding to create a portfolio with user-friendly views of the real estate portfolio

When a property change ownership, further reinvestment is required to integrate the property into the new owner's IT-infrastructure

New technologies create new opportunities for the connected equipment, while the lifespan of existing equipment makes it difficult to change and integrate everything at once

Sustainability and ESG questions are more important, and it is increasingly challenging to meet the demands of governance from authorities and society

Regulatory requirements depend upon certain conditions that are met, both in existing and future projects.
These issues are attainable for each company, but the emphasis lies on industrial cooperation. Where you coordinate to gain economies of scale and avoid unnecessary investments. This is not just an issue for property owners but a societal issue where the effects and lack of standards affect society and, ultimately, tenants and the bottom line. To achieve the goal of a digitalized and efficient (operational, cost, and sustainability perspective), the industry must work in a digital and standardized ecosystem.
The idea is that the building will have a digital twin when data from the areas BIM, BAS, IoT, and AFM are bound together with, for instance, the following functional areas:
2D and 3D drawings of property and installations

Asset register

Technical characteristics of assets and installations

Plus, many more areas
For the past 30-50 years, the properties have automated the operation and monitoring of (HVAC) equipment that controls:

Cold

Heat

Ventilation

Fire protection

Alarm

Lighting

Lifts

Energy optimization

Electronic locks/passage to doors
Why an industry-standard is needed in real estate?
Increasing amounts of data are generated by and within buildings. These large amounts of heterogeneous data points need to be organized into digital twins if they are to contribute to cost-effective and environmentally friendly property management.
Example 1: How RealEstateCore connects with BIM, BAS, IoT, and AFM (Biz) to create a standardized API.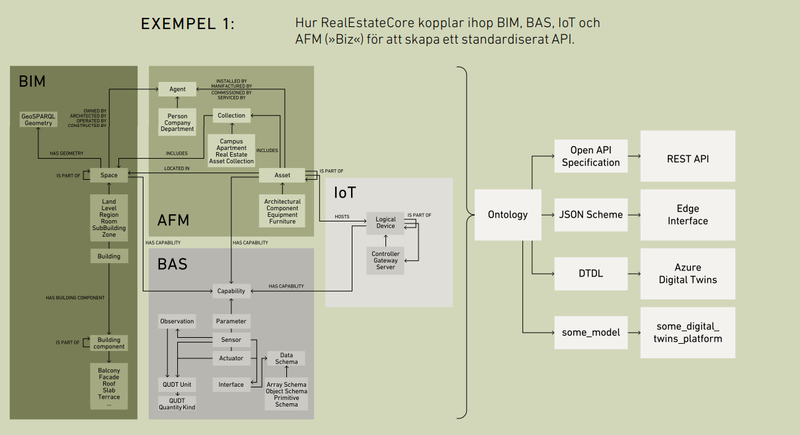 There is currently no global de facto standard in the property industry. However, some initiatives aim to standardize digitization and help property owners. Standards like RealEstateCore can connect BIM, BAS, IoT, and AFM to create a standardized API with an ontology.
Some of the leading Proptech standards on the Swedish market include:
RealEstateCore

BIM Alliance

Brick Schema
About REDI.city:
Among the actors who have joined the initiative are some of the largest property owners in Sweden, like AMF fastigheter, Fabege, Huvudstaden, Vasakronan, Sveriges Allmännytta, Akademiska Hus, Epicenter, Castellum, Stronghold, and Mimer
For more information about REDI.city:
https://www.redi.city/