In the ever-evolving commercial real estate landscape, a digital operations platform can be the game-changer that propels your business toward increased efficiency and profitability. But what exactly is a digital operations platform, and how does it integrate into your current real estate portfolio?
What is a digital operations platform?
A digital operations platform is a unified system that centralizes real estate data, making it easily accessible and manageable. It allows you to consolidate different types of data from various sources into one place, eliminating the need for disjointed systems and tedious manual processes.
What are the benefits of a digital operations platform?
A digital operations platform can enhance your real estate operations in a few key ways, including:
Real-time data access:

You can get up-to-the-minute information about your properties, tenants, and financials, allowing you to make quick and informed decisions.
Task automation:

Routine tasks can be automated, freeing up your team's time to focus on more strategic initiatives.
Centralized real estate data:

All data is stored and managed in one place, giving you a comprehensive view of your operations and making it easier to track and manage your portfolio.
Improved collaboration:

The platform is a central hub for your team to manage tasks, share information, and communicate, improving productivity and accountability.
Optimized property operations:

With real-time access to data, you can monitor property performance, identify trends, and make data-driven decisions that can increase your revenue and decrease expenses.
Compliance with industry standards:

A good digital operations platform, based on the RealEstateCore open-source standard, ensures your data is collected, stored, and used in a way that complies with industry standards.
Using the RealEstateCore open-source standard
One of the key components of a good digital operations platform is that it should be based on the RealEstateCore open-source standard. This standard ensures that your data is not only collected efficiently but also stored and used in a way that complies with industry standards, maintaining integrity and security.
An example of digital operations for your real estate portfolio
Consider a typical operation in a commercial real estate portfolio: property maintenance. In traditional operations, maintenance requests may come through various channels, such as phone calls, emails, or text messages. These requests are manually logged, assigned to the maintenance team, and tracked until completion. This process can be time-consuming, prone to errors, and difficult to manage, especially for large portfolios with multiple properties.
Now, imagine enhancing this operation with a digital operations platform.
Optimize and manage your property operations
With a digital operations platform, tenants can submit maintenance requests directly through a tenant portal. These requests are automatically logged into the system and can be easily assigned to the maintenance team. The platform also allows for real-time tracking of the maintenance process, alerting both tenants and managers about the status of the request.
This automated and streamlined process can significantly reduce administrative tasks, ensure quicker response times, and improve tenant satisfaction. It also provides a centralized data source for analyzing maintenance trends and costs, which can inform budgetary and operational decisions.
Give your team a central place to handle their responsibilities
In addition to automating the maintenance request process, the digital operations platform is a central hub for your team to manage their tasks. It can routinize and standardize processes, making it easier for team members to understand their roles and responsibilities.
The platform can also facilitate communication and collaboration. For instance, maintenance team members can use the platform to communicate with each other about the status of tasks, share information about potential issues, and coordinate their efforts more effectively. This can increase productivity, better team coordination, and improve tenant service.
By transforming traditional real estate operations with the aid of a digital operations platform, you not only enhance efficiency but also improve the quality of your services, leading to better tenant relationships and ultimately, a stronger real estate portfolio.
ProptechOS lets you access integrated applications for every need
ProptechOS is a perfect example of a digital operations platform that's transforming commercial real estate. It acts as an operating system for Proptech to integrate real-time data from various sources like business systems, Building Management Systems, Building Information Modeling, and Internet of Things devices. This allows you to create and connect digital twins of devices and buildings to physical edge devices and data sources, allowing for seamless system integration and automation.
What difference does it make in commercial real estate?
With ProptechOS, commercial real estate becomes more efficient and data-driven. By integrating real-time data from various sources, businesses can streamline operations, significantly reducing manual processes and eliminating inefficiencies.
ProptechOS also empowers businesses to improve energy efficiency. Through its certified applications like Optimize, businesses can effectively analyze and manage their energy consumption, striking the perfect balance between energy usage and tenant comfort.
You can streamline your operations and position yourself at the forefront of the industry using ProptechOS to fully leverage your technology solutions. Try it for free today to see how unifying your digital operations can enhance efficiency!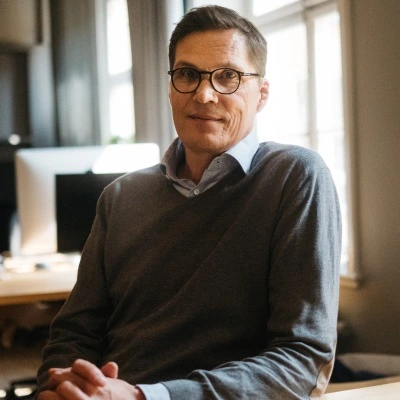 Chief Ecosystem Officer, and founder of ProptechOS and RealEstateCore is recognized as a leader in Building Operating Systems (BOS) and making the buildings of the world smarter. He holds an MSc and a Ph.D. in Media and Computer Science from KTH Royal Institute of Technology.
Read his full bio and information here.