With the right analytics, you can optimize assets, uncover opportunities, and gain a competitive edge. Proptech platforms like ProptechOS are making it easier than ever to leverage intelligence across portfolios. So, this article explores the fundamentals of commercial real estate analytics and how tools like ProptechOS can help you maximize portfolio performance.
What is CRE analytics?
In simple terms, commercial real estate (CRE) analytics uses data and technology to gain insights into commercial properties and markets. By collecting and analyzing key metrics, CRE firms can identify issues, uncover opportunities, and make strategic decisions.
The data used in CRE analytics can come from a variety of sources, including smart building sensors, surveys, and public records. Business intelligence software then crunches the numbers into dashboards, charts, and visualizations allowing decision-makers to understand the data fully.
Make informed decisions and get real-time data
With the right analytics, CRE firms can shift from gut feeling to data-based decisions. You can see emerging trends, drill into specifics, and simulate scenarios.
Real-time data also provides visibility into day-to-day operations. Alerts can flag problems immediately, from a fluctuating utility bill to negative social media mentions.
Increase real estate efficiency
Analytics help enhance operational efficiency in several ways. Based on current data and predicted outcomes, you can benchmark performance to optimize leasing, maintenance, amenities, and staffing.
It also supports preventative maintenance by monitoring equipment runtimes and system health. Then, analytics tools can identify issues preemptively to avoid costly emergency repairs and prevent issues from escalating.
How can you use commercial real estate analytics?
CRE analytics can significantly impact the performance of CRE portfolios and firms. It helps teams make informed decisions at all levels. So, how can you start using CRE analytics?
Which data to collect
Determine which metrics align with your goals, be that occupancy rates, energy usage, or customer satisfaction. Focus on collecting quality, actionable data rather than gathering unnecessary information.
Within the commercial real estate industry, the most common metrics include:
Rent growth/loss

Vacancies

Lease expirations

Operating expenses

Capital expenditures

Tenant retention

Foot traffic

Web traffic

Demographic data
Dashboards and defining outcomes
After defining the metrics you want to analyze, you can organize those metrics into digestible dashboards to monitor performance. Choose simple, intuitive data visualizations like charts, gauges, and graphs.
Define targets for each KPI so you can quickly spot variances. For example, you can aim for a specific turnover rate of tenants. With this target, you can monitor relevant data, such as the number of tenant complaints and maintenance requests, to find opportunities for improvement.
Digital twins
On the cutting edge, some firms use digital twins, which are virtual models of physical buildings. Digital twins help predict performance issues and model capital planning scenarios by mirroring real-time data through simulations.
How ProptechOS can help you get started
Manually collecting and unifying CRE data from all of your sensors quickly becomes a time-consuming task. Many use different data standards which require converting before building dashboards. That's where ProptechOS comes in to help. How it works is ProptechOS acts as your building's operating system to unify all of your CRE data and Proptech solutions into a single platform.
You can download data files and analyze them using the Code Interpreter tool in ChatGPT to identify trends and abnormalities. Analyzing IoT data from commercial buildings for energy savings can provide valuable insights that can reduce energy consumption, improve cost efficiency, and lead to a smaller carbon footprint.
Using historical data, you can train machine learning models to:

Predict future energy consumption.

Detect anomalies or unusual energy usage patterns.

Recommend energy-saving actions based on occupancy or environmental factors.
Increase the value of your property portfolio
The ProptechOS platform integrates with smart building systems to collect granular operational data. Customizable dashboards provide visibility across your portfolio so you can optimize performance. It also allows you to clearly showcase the performance of your properties, ensuring an accurate valuation.
ProptechOS partners and commercial real estate analytics
To make getting started with ProptechOS even easier, it offers seamless integrations with all its partnering applications. This includes CRE analytics tools, such as Estate Logs and Sweco, that can immediately pull data from ProptechOS so you can instantly benefit from CRE analytics. You can try ProptechOS for free to see how unifying your CRE software ecosystem can benefit your portfolio.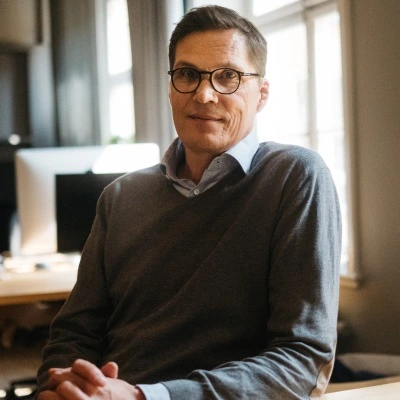 Chief Ecosystem Officer, and founder of ProptechOS and RealEstateCore is recognized as a leader in Building Operating Systems (BOS) and making the buildings of the world smarter. He holds an MSc and a Ph.D. in Media and Computer Science from KTH Royal Institute of Technology.
Read his full bio and information here.